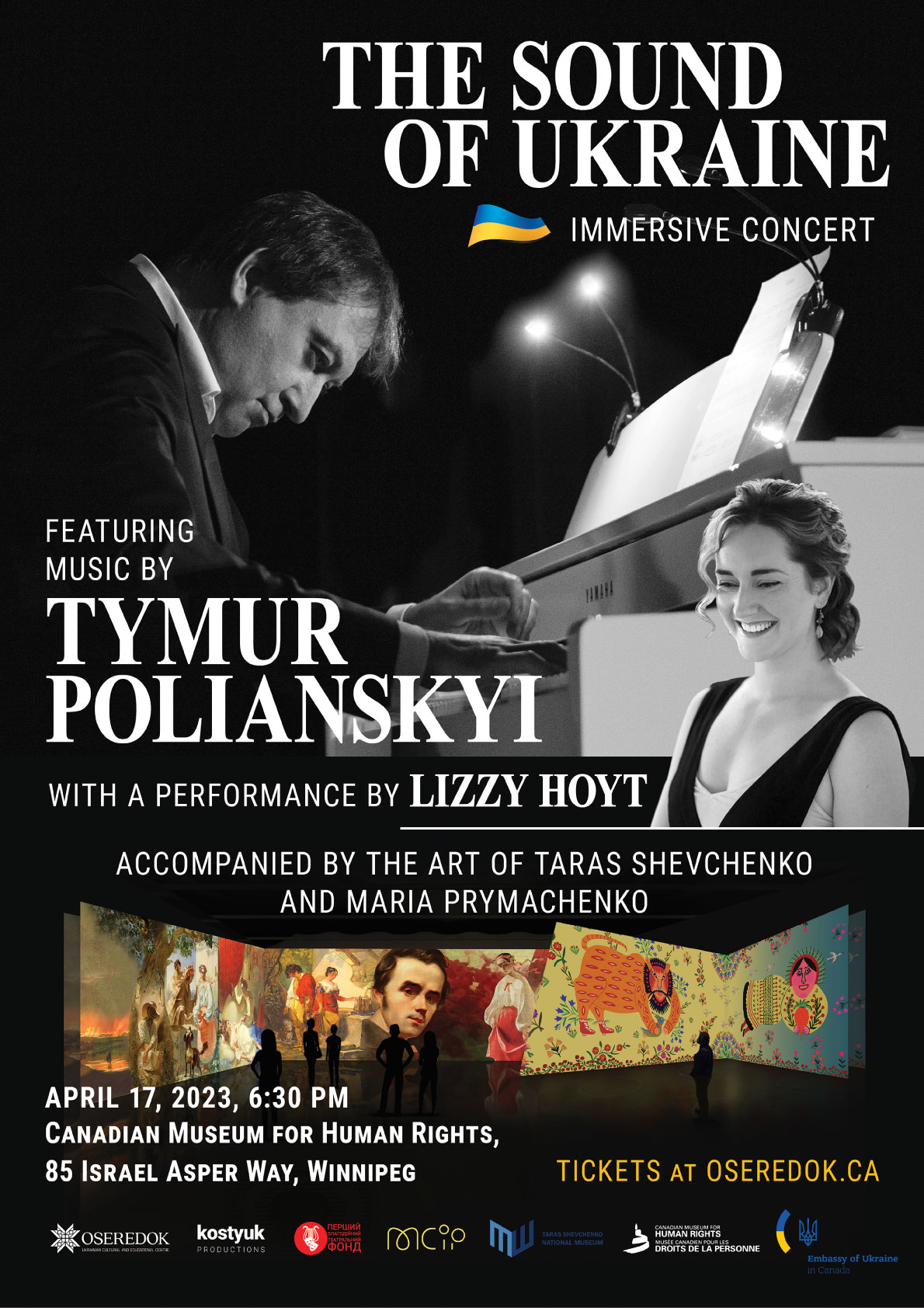 The Sound of Ukraine Immersive Concert
---
On April 17th, 2023, Oseredok Ukrainian Cultural and Educational Centre in partnership with the Canadian Museum for Human Rights presents The Sound of Ukraine immersive concert with Tymur Polianskyi and Lizzy Hoyt! This one-night only event features a piano performance by renowned Ukrainian pianist and composer Tymur Polianskyi joined by award-winning mezzo-soprano and fiddler Lizzy Hoyt.
The concert marks the close of Oseredok's exhibition The Immersive World of Ukrainian Art and features a visual projection of the artworks of famous Ukrainian artists Taras Shevchenko and Maria Prymachenko for attendees to enjoy. The performance will include original classical and jazz compositions created exclusively for The Immersive World Art, as well as pieces from the musical Hutsulka Ksenya, which earned Polianskyi a Ukrainian Oscar (Zolota Dzyga) in 2020. Lizzy Hoyt, known for her dazzling performance as the lead in Manitoba Opera's La Cenerentola (Cinderella) in 2022 and her many accolades as a fiddler, will join Polianskyi in this performance.
Join Oseredok for this exciting musical opportunity at the Canadian Museum for Human Rights, 85 Israel Asper Way at the Forks. Doors open at 6:30PM, concert begins at 7PM. Tickets are $50 and are available for purchase in-person in our boutique, over the phone, or online.
---
---
About Tymur Polianskyi and Lizzy Hoyt
About Tymur Polianskyi
Tymur Polianskyi is famous for his accomplishments as a classical pianist and composer, combining his knowledge of academic music theory with the playful melodies of jazz composition and improvisation. When not creating music, Tymur serves as a Professor at Borys Grinchenko Kyiv Metropolitan University and as Head of the musical section of the Kyiv Academic Drama Theater in Podil. For his contributions to Ukrainian music, Tymur has been deemed an Honored Worker of the Arts of Ukraine, a prestigious designation for creative talent in Ukraine.
As a soloist and ensemble performer, Tymur creates music in a variety of genres and styles. His musical repertoire includes both academic and classical pieces from Bach to Gershwin, as well as whimsical and improvisational jazz compositions. Tymur has performed in numerous festivals and competitions, most recently at the Vilnius International Jazz Competition where he won in the category of "Jazz Improvisation".
Tymur is also famous for his work composing and creating scores for theatre, pop music, film and television. A member of the European Film Academy (EFA), member of the Ukrainian Film Academy, and laureate of the Kyiv Pectoral theater award, Tymur has worked on more than 40 projects in film and television. In 2020, Tymur received a Zolota Dzyga (a Ukrainian Oscar), for his work scoring the film Hutsulka Ksenya.
Additionally, Tymur is known for his collaboration with visual artists, including those who contributed to creating Oseredok's Immersive World of Ukrainian Art exhibition, which Tymur wrote the entire original score for. Taking inspiration from Ukrainian folk songs, religious and choral music, classical composers, and avant-garde jazz performers, Tymur blends musical styles to create pieces as diverse as the Ukrainian fine arts cannon. Truly one of the most talented musicians and creators in Ukraine, his performance is one not to be missed!
Interested in learning more about Tymur Polianskyi? Visit him at http://theatreonpodol.com/en/collective/tymur-polyanskyj/
About Lizzy Hoyt
Few vocalists authentically cross genres at the highest levels and maintain professional careers in both areas – but LIZZY HOYT is one of them!
Praised by Opera Canada for both her dramatic depth and keen comedic gifts, she a rising star in the Canadian classical music scene. This season, Lizzy made her debut with both Manitoba Opera and Brott Opera in the title role of Rossini's La Cenerentola (Cinderella) followed by her return to Manitoba Chamber Orchestra to present a world premiere performance of a new work by Kevin Lau commissioned for Lizzy by the Manitoba Chamber Orchestra. Lizzy is thrilled to return to Orchestra Borealis in 2023 for a live performance of Rossini's dramatic cantata Giovanna d'Arco. In addition to her live performances, Lizzy also video records two cantatas this season – La Lucrezia (Handel) and Giovana d'Arco (Rossini).
A nationally recognized Celtic songwriter and multi-instrumentalist, she has won and been nominated for numerous awards including the Queens Diamond Jubilee Medal, Canadian Folk Music Awards, Western Canadian Folk Music Awards, International Acoustic Music Awards and Independent Music Awards.
In addition to five independent albums, Lizzy has released two music videos, and has given countless concert tours across Canada since transitioning to full-time in 2009. She shares content regularly online through her social media platforms which have received hundreds of thousands of views @LizzyHoytMusic.
Interesting in learning more about Lizzy Hoyt? Visit her at https://www.lizzyhoyt.com/