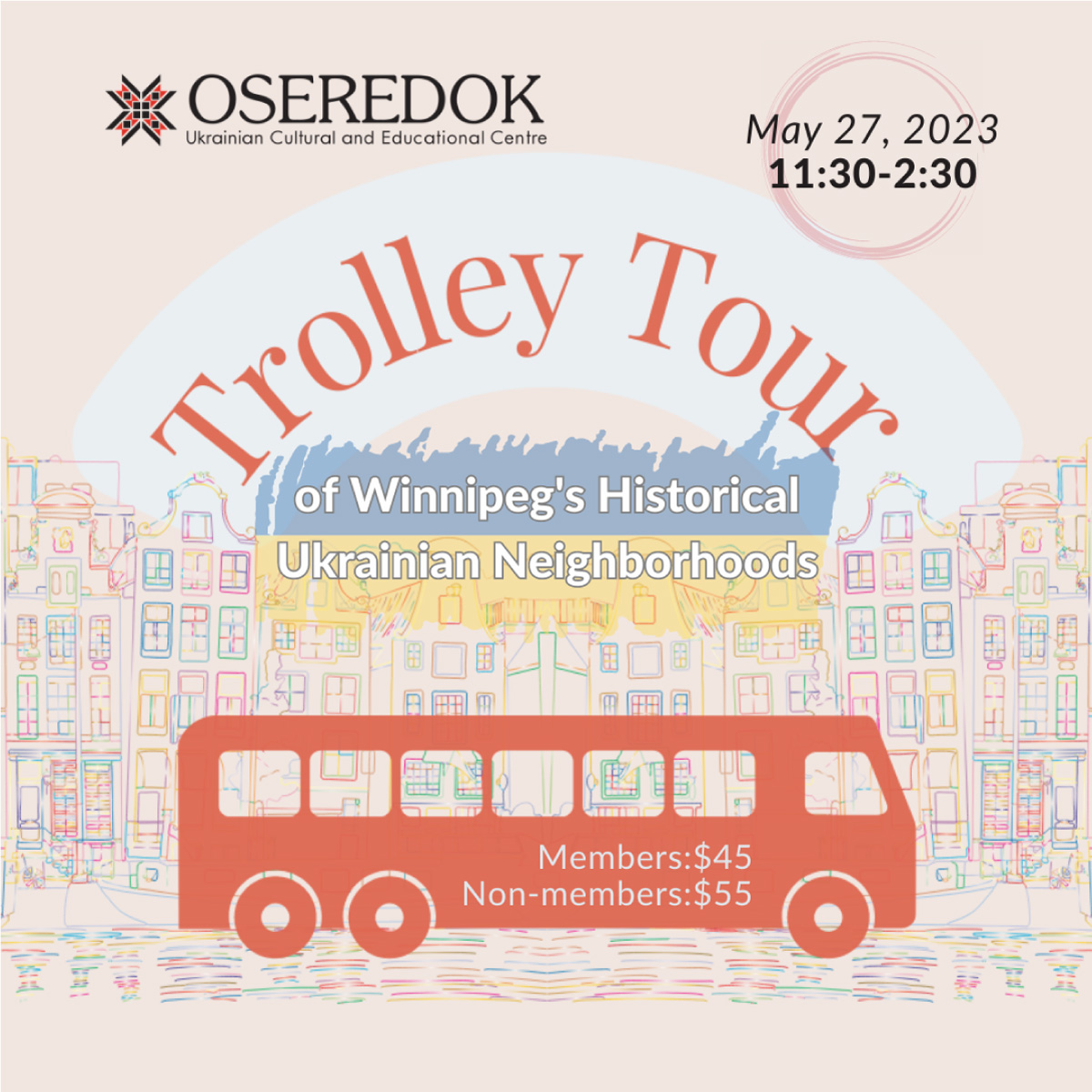 FULLY BOOKED
Get ready to take a fascinating journey through time as we explore the rich history of Ukrainian Winnipeg! Are you curious about the first Ukrainian schools, newspapers, and churches? Do you want to discover the historical significance of iconic halls, professional offices, and artistic centers? And how about a glimpse into the intriguing past of the infamous Manor/Manorka Hotel?
Join us on May 27th, 2023, for a captivating Trolley Tour of Winnipeg's Point Douglas and North End neighborhoods, led by the renowned historian Orest Martynowych.
This three-hour tour will take you on a journey through Winnipeg's past, showcasing sites of historic and architectural importance. Starting at 11:30PM and ending at 2:30PM, the tour departs and returns to Oseredok Ukrainian Cultural and Educational Centre at 184 Alexander Ave East. Don't miss out on this unique opportunity to explore the vibrant history of Ukrainian Winnipeg!
The ticket fee is $45 for members and $55 for non-members.  Be sure to secure your spot as the number of spaces is limited.
MEET YOUR TOUR GUIDE:

As a lifelong resident of this historic neighborhood, Orest Martynowych  is passionate about sharing his extensive knowledge of the Ukrainian community and their impact on the area.

Mr. Martynowych is an accomplished scholar, with his B.A. Honours and M.A. degrees from the University of Manitoba, and further education at the University of Toronto. He is a published author of three books – Ukrainians in Canada: The Formative Years 1891-1924 (CIUS Press, University of Alberta, 1991), Ukrainians in Canada: The Interwar Years (CIUS Press, University of Alberta, 2016), and The Showman and the Ukrainian Cause: Folk Dance, Film and the Life of Vasile Avramenko (University of Manitoba Press, 2014) – as well as more than 25 articles and book reviews.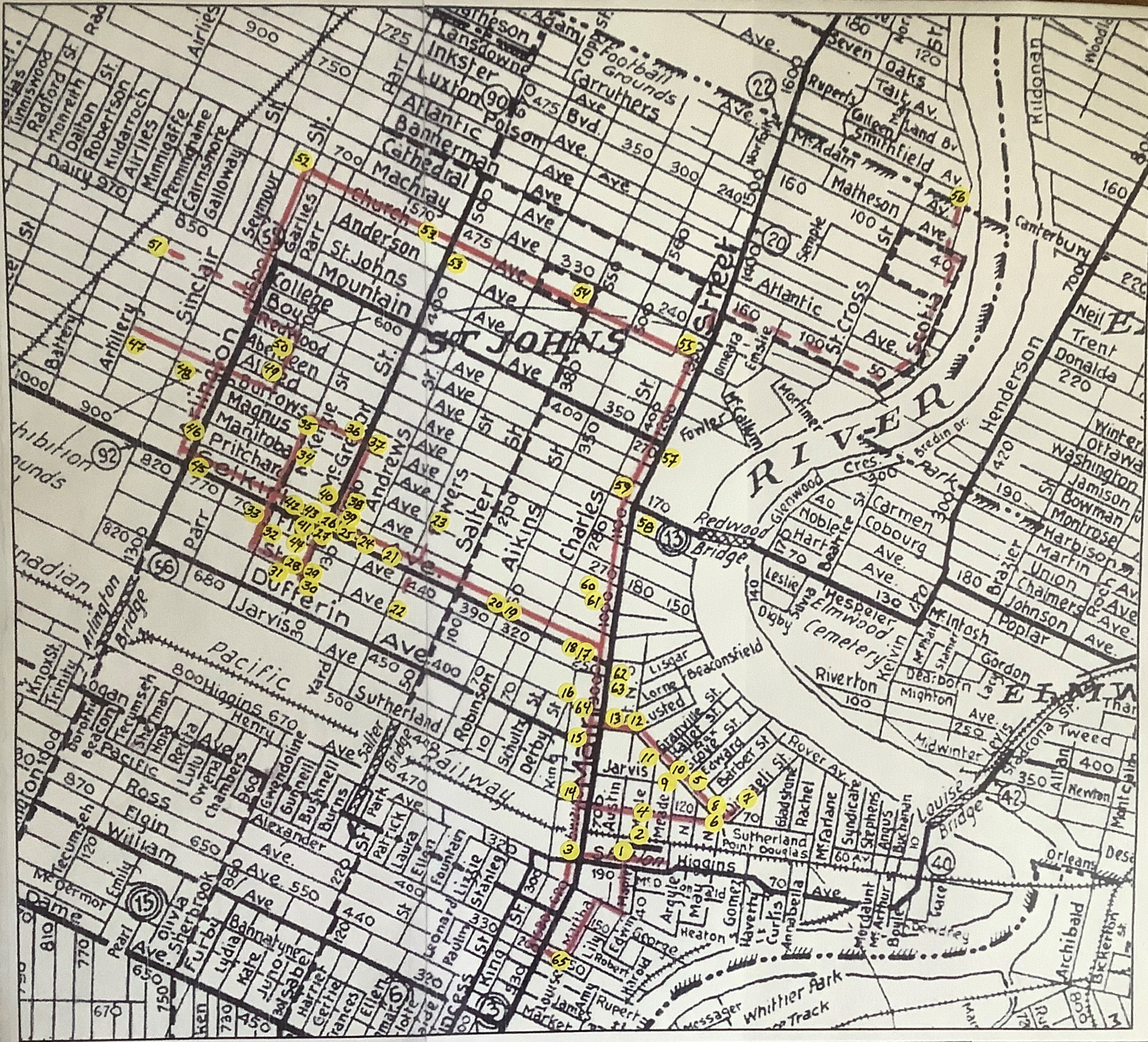 Canadian Pacific Railway station and Royal Alexandra Hotel – 181 and 183 Higgins Avenue
Dominion Immigration Buildings – 83 Maple Street
The Manor Hotel ("Manorka") – 692 Main Street and Higgins Avenue
Vulcan Iron Works – 105 Maple Street North
 Cyril (Kyrylo) Genik's residence and (International) Taras Shevchenko Reading Club – 109 Euclid Avenue
All People's Mission (Methodist) – 119 Sutherland Avenue
St. Michael's Orthodox church – 110 Disraeli Street
Markiian Shashkevych Ukrainian Heritage School & Reading Club – 49 Euclid Avenue
Markiian Shashkevych monument, Euclid Avenue at intersection with Meade Street North/Grove Street
Ukrainian National Co-operative Ltd. – 117 Euclid Avenue
 St. Andrew's Ukrainian Catholic church – 160 Euclid Avenue (including Monuments to Ukrainian Canadians serving in WWII (1942) and to Ukrainian Canadian Pioneer Settlers (1941))
Ted Baryluk's Grocery Store – 177 Euclid Avenue
Ukrainian Labour Temple – Point Douglas Branch – 197 Euclid Avenue
Providence Church Goods // Jacob Maydanyk's atelier – 783 Main Street (in 1923-25)
The "Ukrainian Voice" (Ukrains'kyi holos) weekly newspaper – 842 Main Street at Dufferin Avenue
"Bishop" Seraphim's 'Tin Can Cathedral' – corner King Street and Stella Avenue
Queen's Theatre – 239 Selkirk Avenue
"People's Café" / Narodna Hostynnytsia – 267 Selkirk Avenue
Holy Ghost (Polish) Roman Catholic parish Rectory, Church and School, corner Selkirk Avenue and Aikins Street
Dr. Hryhorii (Gregory) Novak's residence – 355 Selkirk Avenue
Oretzki's Department Store – 487-495 Selkirk Avenue
All People's Mission (Methodist) and J. S. Woodsworth residence – 464-470 Stella Avenue
Ukrainian Social Democratic Party (a.k.a. Social Democratic Party of Canada – Ukrainian Branch), 467 Manitoba Avenue (in 1907) and many other locations
Steiman's Hall/Block (1914-1933) / Merchant's Hotel (1933-2011) – 511-513 Selkirk Avenue
Dubchak's Photo Studio (later Vogue Photo Studio) – 591 Selkirk Avenue
Empire Drug Store (Alex Symchych and Nicholas Zalozetsky) – 597 Selkirk Avenue corner McGregor Street
Budnick Block – 594-602 Selkirk Avenue corner McGregor Street
St. Nicholas Ukrainian Catholic church – northwest corner of McGregor Street and Stella Avenue
Ss. Vladimir & Olga Ukrainian Catholic cathedral –115 McGregor Street and Stella Avenue (northeast corner)
(Tom) Jastremsky's Hall – 85 McGregor Street (southeast corner Stella Avenue)
Kucher's Ukrainian Bakery (KUB) – 626 Stella Avenue
St. Nicholas Ukrainian Catholic school – 650 Flora Avenue
Ukrainian Reading Association "Prosvita" – 667 Flora Avenue
Holy Trinity Russian Orthodox church – 190 McKenzie Street northeast corner Manitoba Avenue
Robertson Memorial Presbyterian/United church and Robertson Institute – 648-650 Burrows Avenue
Strathcona Public School (elementary) – McGregor Street between Burrows and Alfred Avenues
Ukrainian National Home Association – 582-590 Burrows Avenue corner McGregor Street
Holy Ghost and Our Saviour (Independent Greek Church) – 200 McGregor Street (east side) between Pritchard and Manitoba Avenues
Ukrainian People's Press – McGregor Street near southeast corner of Pritchard Avenue
Ukrainian Labour Temple (Ukrainian Labour-Farmer Temple Association) – 591 Pritchard Avenue
corner McGregor Street
Royal Canadian Legion Branch #141 – 608-10 Selkirk Avenue
V Records – Mickey & Bunny – the D Drifters 5 – sold in Selkirk Avenue stores
"Promin" Publishing Company – 623 Selkirk Avenue
"Plast" Ukrainian Youth Association – 623 Flora Avenue
Ukrainian Mutual Benefit Association of St. Nicholas – 804 Selkirk Avenue southeast corner Arlington Street
Canadian-Ukrainian Institute "Prosvita" – 777 Pritchard Avenue northwest corner Arlington Street
Hetman Hall – corner Burrows Avenue and Artillery Street
St. Mary the Protectress Ukrainian Orthodox church – 820 Burrows Avenue corner Sinclair Street
Isaac Newton School – Parr Street between Alfred and Aberdeen Avenues
Ukrainian Baptist Congregation – 300 Parr Street corner Redwood Avenue
Blessed Virgin Mary Ukrainian Catholic church – 965 Boyd Avenue corner Artillery Street
Canadian Ukrainian Athletic Club (CUAC) – 1723 Arlington Street
Residences of Oleksander Koshetz (609 Church Avenue) and John Melnyk (453 McGregor Avenue) in 1944
St. John's (Tech) High School – 401 Church Avenue and Salter Street
St. Andrew's College (Ukrainian Orthodox) (in 1946-62) – 259 Church Avenue and Charles Street
Residence and Chancery of the Ukrainian Catholic Archbishop – 235 Scotia Street
Holy Trinity Ukrainian Orthodox Cathedral – 1175 Main Street
Holy Family (Personal Care) Home – 165 Aberdeen Avenue
Cooper-Mosienko Bowling – 1136 Main Street near Redwood Avenue
People's Hospital – 247-251 Manitoba Avenue
Mission of the Western Ukrainian People's Republic – 247-251 Manitoba Avenue
St. John (Ivan) Suchavsky Ukrainian Orthodox church – 939 Main Street
Ukrainian National Federation – 935 Main Street
Kalyna Co-op & Carpathia Credit Union – 862 Main Street 1950s
The "New Pathway" (Novyi shliakh) offices / Oseredok (UCEC) – 184 Alexander Avenue East
---
This file is intended for personal use only and must not be distributed for commercial purposes.
---
Event Details
Instructor Orest Martynowych