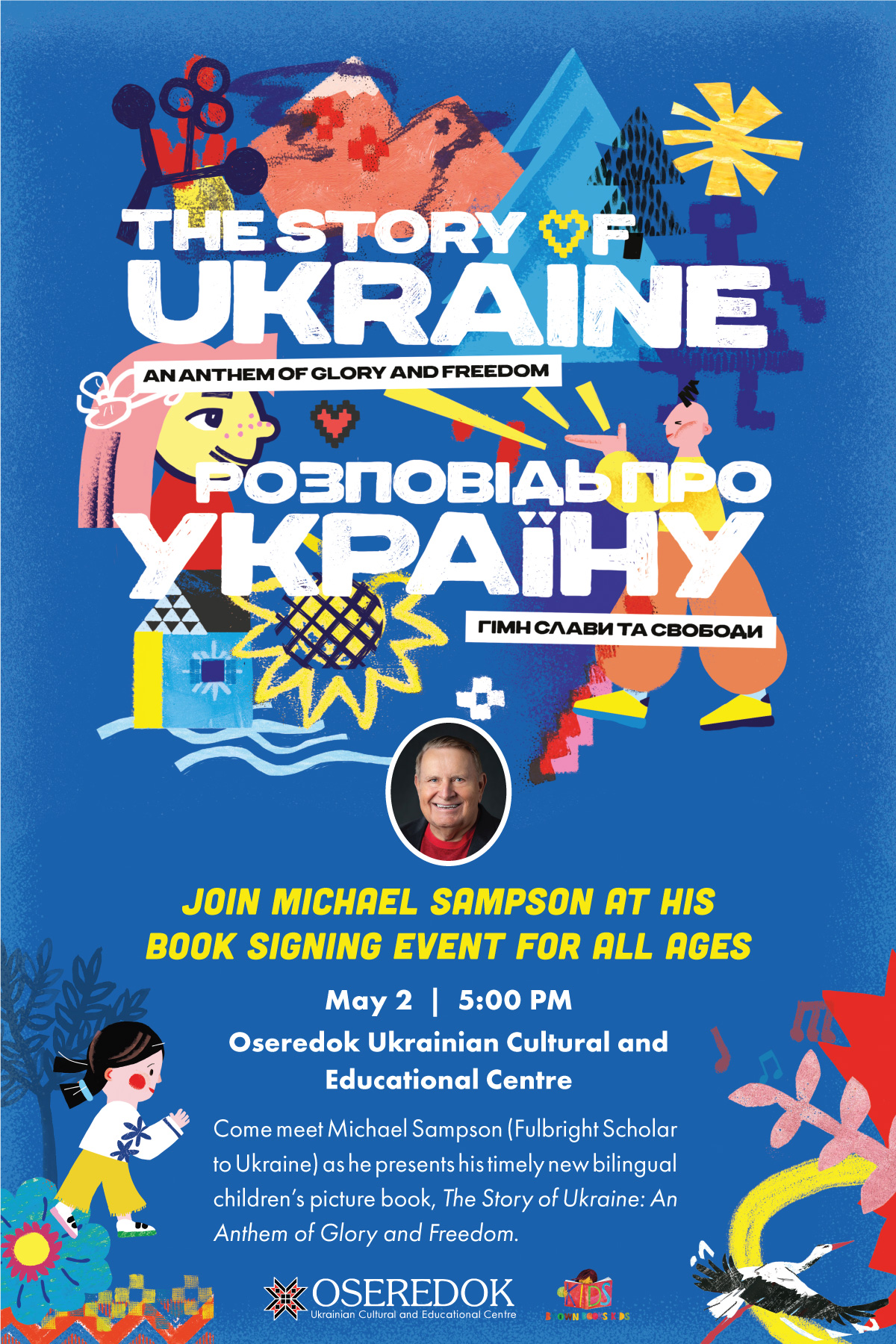 Background on The Story of Ukraine:
 As a Fulbright scholar to Ukraine during the Russian invasion this past year, Michael Sampson reported on his work in The Chicago Tribune, The New York Post, The New York Daily News, The Tampa Bay Times, School Library Journal, The Horn Book Magazine, and NPR. While attending peace rallies in Warsaw, he heard people singing the Ukrainian national anthem. Michael was moved by the passion and love the people singing had for Ukraine and contemplated how he might replicate that same passion and love on a global scale. Michael Sampson and Olena Kharchenko teamed up with the mission to write a book for children and families around the world to help them to feel connected while also teaching Ukraine's history. The Ukrainian national anthem was written in the 1860's about fighting for freedom then, and unfortunately, it is very true once again in 2022 with the Russian invasion. This book is meant to help parents share the story of Ukraine and for teachers to move students to deeper discussions about democracy and freedom. Olena and Michael connected with Ukrainian publisher, Old Lion Publishing House, to help get this book printed in Ukraine as well. Their response was the exact sentiment that Michael and Olena had hoped to evoke with this book: "thank you for standing with us."
 School Library Journal released an interview with Michael, Olena, and Polina, which can be viewed here:
 https://afuse8production.slj.com/2022/09/22/freedom-and-glory-an-interview-with-the-story-of-ukraine-creators-olena-kharchenko-michael-sampson-and-polina-doroshenko/
Advance Praise
 "National patterns, music, literature and symbols of Ukraine have always indicated the importance of freedom, identity, traditions and the struggle for independence. This book is the core of Ukrainianness — feel it with your heart." —Larysa Denysenko, UN Goodwill Ambassador for Tolerance in Ukraine, Human Rights Lawyer and Author of Maya and Her Friends

 "Packed with insight into what makes Ukraine unique and vital. A story beautifully told!" —Jeff Kinney, #1 New York Times Bestselling Author of the Diary of a Wimpy Kid and Diary of an Awesome Friendly Kid Series

 "A gorgeous, vibrantly illustrated introduction to Ukraine … I cannot recommend this wonderful book enough." —Junot Díaz, Pulitzer Prize-Winning Author of Islandborn

 "A very big world gets much smaller in the hands of Olena Kharchenko and Michael Sampson in this bold and creative book." —Peter H. Reynolds, New York Times Bestselling Creator of The Dot and The Word Collector

 "This lushly illustrated, fact-packed look at Ukraine — complete with Ukrainian text on the facing pages — is a poignant celebration of a nation currently fighting for its survival."—The Washington Independent Review of Books

 "A fervent celebration of Ukraine, Kharchenko and Sampson's dual-language picture book offers a heartfelt introduction to the 'multi-ethnic, multi-language and multicultural country' through the lens of its national anthem… 'Blue is the bright, peaceful, cloudless Ukrainian sky. Yellow is the symbol of its golden wheat fields.' These hues also prove a unifying thread through Doroshenko's layered, folklore-style artwork." —Publishers Weekly

 "Collagelike illustrations centered around the colors of the Ukrainian flag—blue and yellow—depict the history and enduring resilience of the nation of Ukraine in a digestible, kid-friendly format. Presented in both English and Ukrainian, the text urges children to sing along to Ukraine's national anthem as they learn facts about the nation—the national flower, the meaning behind the flag, common cultural foods—and grow to understand and respect a vibrant country and its determined people." —Foreword Reviews Magazine, starred review

 "Bold look at the Ukrainian nation and anthem… it's a wonderful nod to the culture."—School Library Journal

 "Kids have certainly heard about Ukraine and the war raging there. Here's a book that will help them understand the people of that country. The Story of Ukraine walks readers through each line of the Ukraine national anthem while providing details of land and life in the country. Presented in English and Ukrainian, this book gives readers of all ages the opportunity to put a context around the news they hear… it is an example of how crisis in the world impacts us here at home." —Seattle's Child Magazine
---
Event Details
Address Oseredok 184 Alexander Ave.