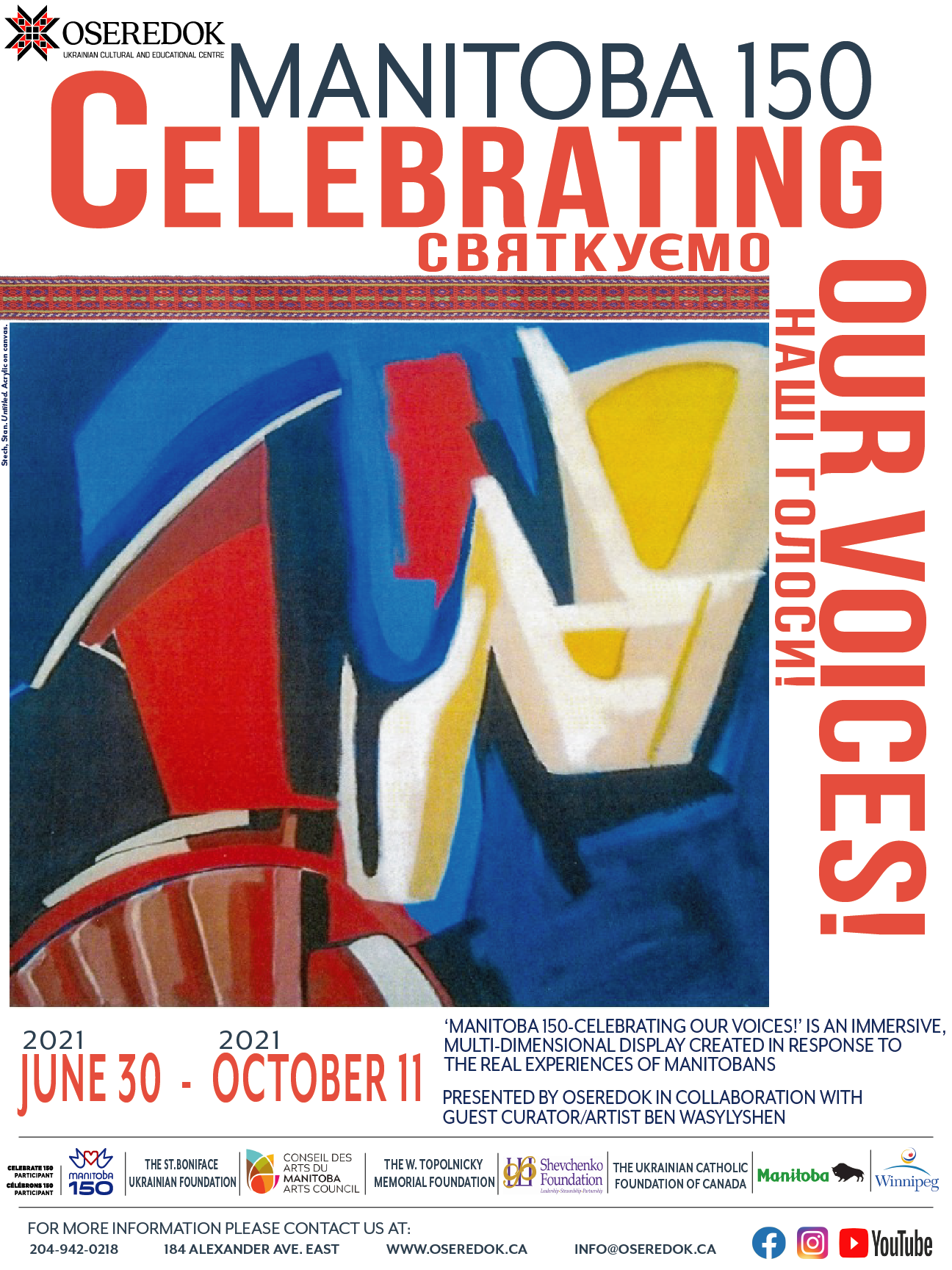 The Manitoba 150 exhibition is an immersive, multi-dimensional experience created in response to the real experiences of Manitobans. Members of several generations have been invited to share their thoughts of being a Manitoban in the past and present. Viewers of the exhibit are welcomed to follow the individuals chosen, and to stand next to them to get to know them through their personal thoughts/expressions/artifacts that are in turn enhanced by museum treasures chosen from Oseredok's vast collection.
 Manitoba 150-Celebrating Our Voices! is a combination of oral history conversations and photographic portraits. The individuals selected to be featured in the exhibition come from varied national and provincial locations and many have incorporated personal artifacts and memorabilia that are significant to their Ukrainian-Canadian life and family legacy in their depictions. The overall presentation with Oseredok's museum pieces offers a varied visual experience — meaningful and celebratory. This exhibit is a colorful tapestry of Ukrainian history in Manitoba that reveals personal and collective roads and pathways of a place they call home.
Oseredok would like to acknowledge that the territories which all of the Ukrainian-Canadians celebrated in our Manitoba 150—Celebrating Our Voices! exhibition call home are located on Treaty No. 1, the original lands and waters of Anishinaabe, Ininiwak, Anishininiwak, Dakota, and Dene peoples, and on the homeland of the Métis Nation. Acknowledging this truth is important yet only a small part in cultivating strong relationships with Indigenous communities, which includes respecting treaty relationships, acknowledging the mistakes in our past, and building future relationships with Indigenous communities in a spirit of reconciliation and collaboration.
Explore the virtual reality tour here.
---
Event Details
Date 30 Jun 2021 – 11 Oct 2021