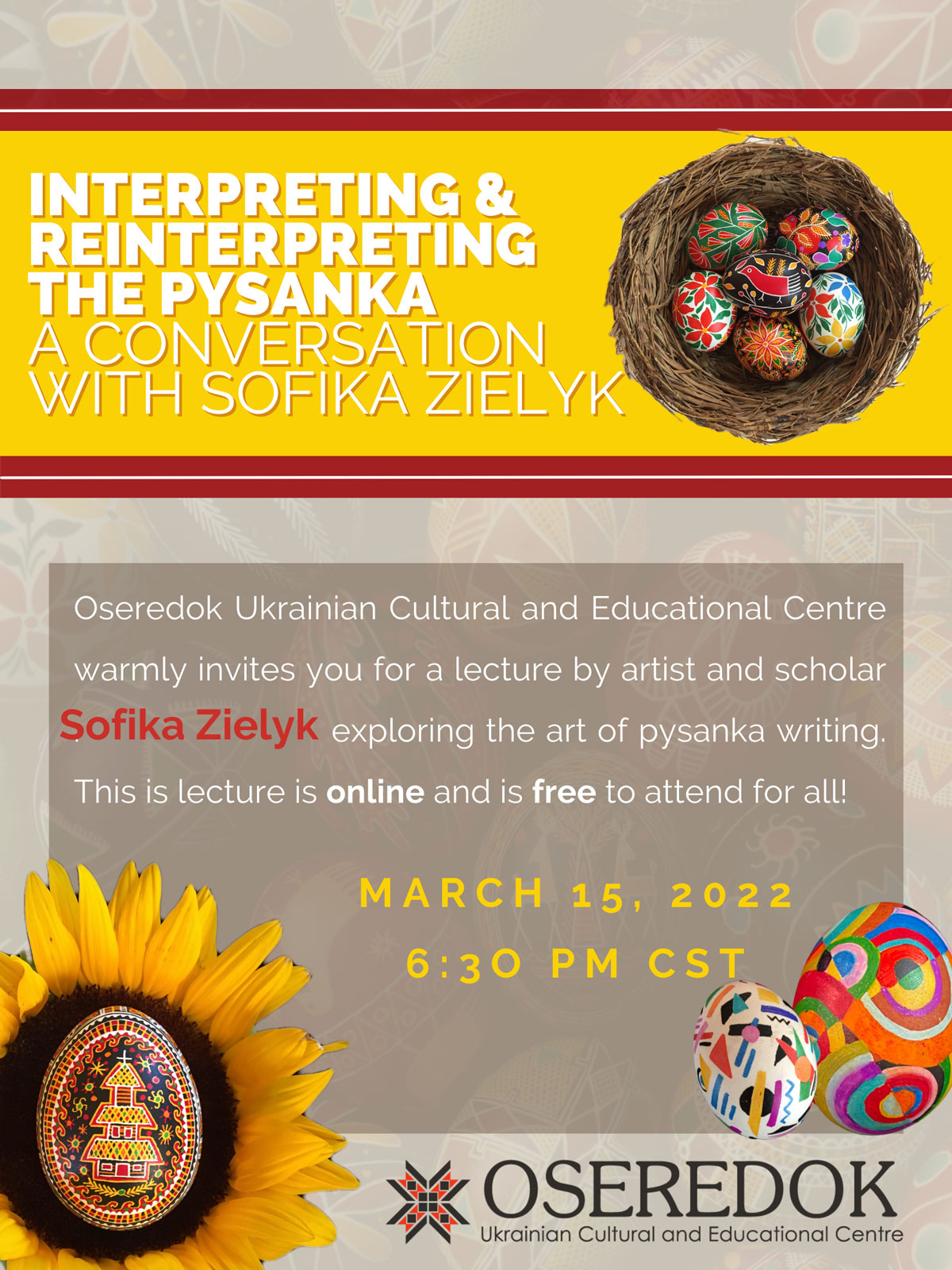 Pysanka Lecture
Dating back thousands of years, the pysanka is an artform with deep cultural roots. In the modern day, the pysanka is also a medium for innovation, creativity, and cultural expression. Please join Oseredok Ukrainian Cultural and Educational Centre as we welcome artist and ethnographer Sofika Zielyk for a lecture exploring the history, symbolism, and traditions of pysanka writing, and for a conversation about her own adaptation of the artform. The lecture will take place online on Tuesday, March 15th, 2022 at 6:30PM CST and is free for all to attend. Please join us at this link.
About the Artist
Sofika Zielyk is a Ukrainian artist from New York who specializes in traditional Ukrainian art forms including pysanky and ceramics. She holds a degree in Art History from New York University. Throughout her career she has lectured and exhibited her works around the world, including in Ukraine, where she was the first American of Ukrainian descent to exhibit work in their ancestral homeland (Taras Shevchenko Museum, Kaniv; Taras Shevchenko Museum, Kyiv.) In 1995, Sofika Zielyk was inducted into the prestigious Association of Folk Artists of Ukraine. From 2014-2015, she was a Fulbright Scholar in Kyiv, Ukraine, researching folk art as the inspiration and muse for early 20th century artists of Ukraine.
Her pysanky are in the permanent collections of the Ukrainian Museum in New York, The Ukrainian Museum and Library of Stamford in Connecticut, the Embassy of Ukraine in Washington, DC, American House in Kyiv, and the Pysanka Museum in Kolomyja, Ukraine. They can also be found in numerous private collections worldwide. In early 1993, she published a bilingual book, "The Art of the Pysanka," in Ukraine.  It contains 100 color photographs of her eggs as well as sections on the lore of Ukrainian Easter eggs and with step-by-step instructions.
To learn more about Sofika Zielyk, visit her at https://www.sofika.com/.
---
Event Details
Date 15 Mar 2022 – 15 Mar 2022