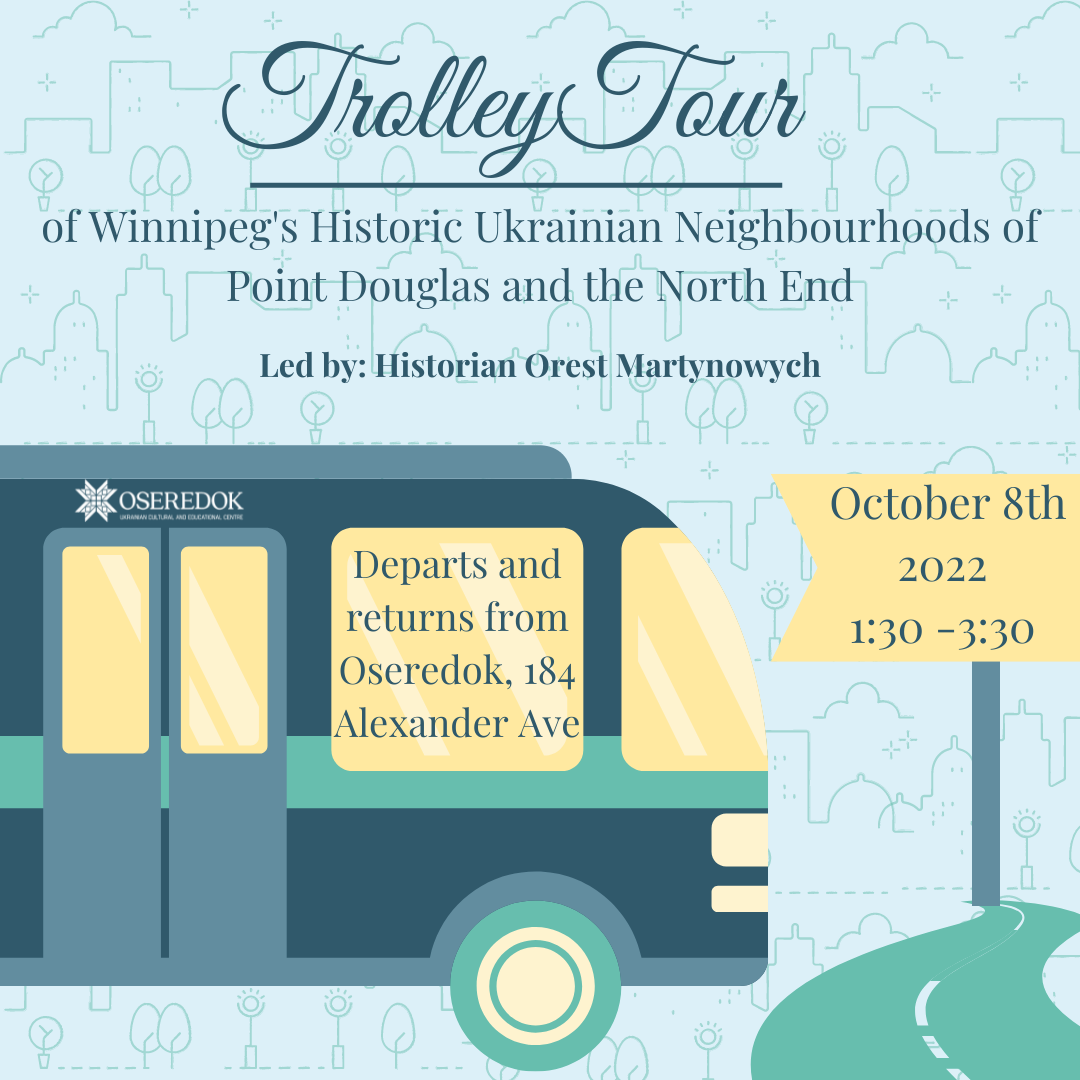 Do you know where the first Ukrainian schools, newspapers, and churches once were? What about historically important halls, professional offices, and artistic centres of all types? Have you heard of the infamous Manor/Manorka Hotel?
Come and learn about the history of Ukrainian Winnipeg with renowned historian Orest Martynowych to hear about all these places and more!
On October 8th, 2022, Oseredok warmly invites you to join us on our trolley tour of Winnipeg's historic Point Douglas and North End neighbourhoods. The tour will focus on Ukrainian history in the city and will highlight sites of historic and architectural importance. The tour runs from 1:30PM-3:30PM and both departure and arrival are at Oseredok Ukrainian Cultural and Educational Centre, 184 Alexander Ave East.
Tickets are $25 for members and $35 for non-members, and space is limited, so sign up to reserve your space today!
To register click here.
---
About Your Tour Guide Orest Martynowych

A lifelong resident of Winnipeg's historic North End, Orest Martynowych is eager to share his knowledge of the Ukrainian community and the impression they left in these neighbourhoods.

Educated at the University of Manitoba (BA Honours, MA) and at the University of Toronto, Orest Martynowych is the author of three books—Ukrainians in Canada: The Formative Years 1891-1924 (CIUS Press, University of Alberta, 1991), Ukrainians in Canada: The Interwar Years (CIUS Press, University of Alberta, 2016), and The Showman and the Ukrainian Cause: Folk Dance, Film and the Life of Vasile Avramenko (University of Manitoba Press, 2014)—and more than 25 articles and book reviews.
---
Event Details
Registration Fee Tickets are $25 for members and $35 for non-members, and space is limited
Instructor Orest Martynowych