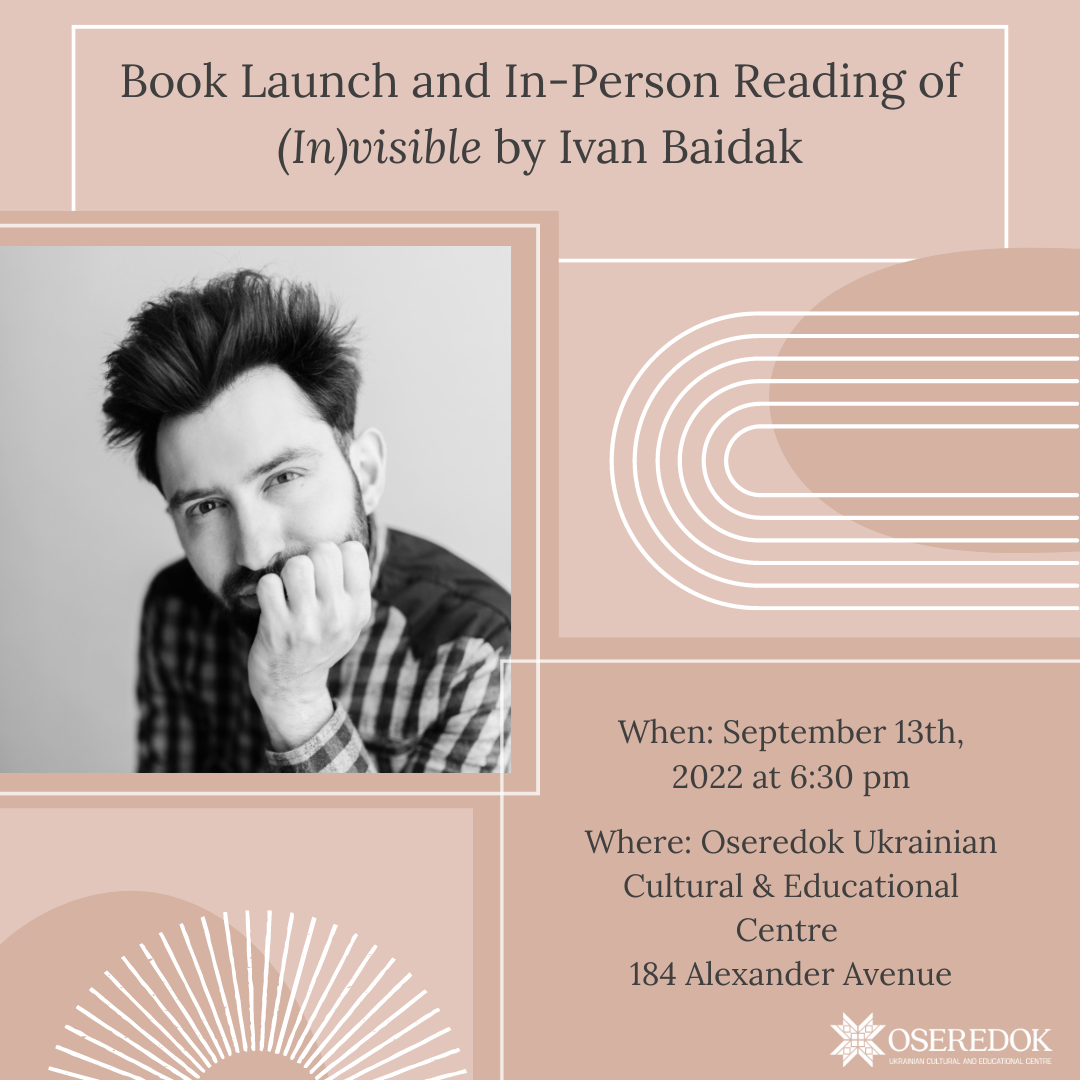 You're warmly invited for the Canadian launch of acclaimed Ukrainian writer Ivan Baidak's newest novel (In)visible. This event features a live book-reading by the author, as well as a question and answer session, and the opportunity for attendees to have their books autographed by Baidak. Please join us at this free event on September 13th, 2022, at 6:30PM!
About the Author
Іvan Baidak is a daring Ukrainian fiction writer whose debut novel Personally Me Personally for You (2013) became a national bestseller and garnered excellent critical reviews. His two short story collections, Role Plays (2014) and The Shadows of Our Dates (2017), topped bookstore bestseller lists. His latest novel A Man With My Name (2019) was excellent proof of the writer's maturity.
His latest novel, (In)visible, is a social novel which addresses themes of inclusivity and what it means to live with a disability in the contemporary world. This work was well-reviewed in Ukraine, recognized as one of PEN Ukraine's best novels in 2020. It also inspired a theater play based on the book, and several photo exhibitions.
Originally from Ukraine, Baidak has lived in many places around the world, including Poland, Austria, Mexico, and the United States. His short stories have been translated into English, German, Serbian, Polish, Spanish, and Italian, and presented at European literary festivals. In 2019, the author's debut Euro-tour took place, during which Ivan visited Warsaw, Krakow, Wroclaw, Prague, Berlin, Munich and Paris. He received a scholarship from Gaude Polonia 2020.
He left Lviv in early 2022 and was hosted by the Camargo Foundation in Cassis, France, and the Slovenian Writers Association in Bled, Slovenia. The fall of 2022 marks the beginning of Baidak's cross-Canadian book tour.
To learn more about Ivan Baidak or to purchase his works, please visit his website at: https://ivanbaidak.com/
---
Event Details
Date 13 Sep 2022 – 13 Sep 2022
Address Oseredok 184 Alexander Ave.