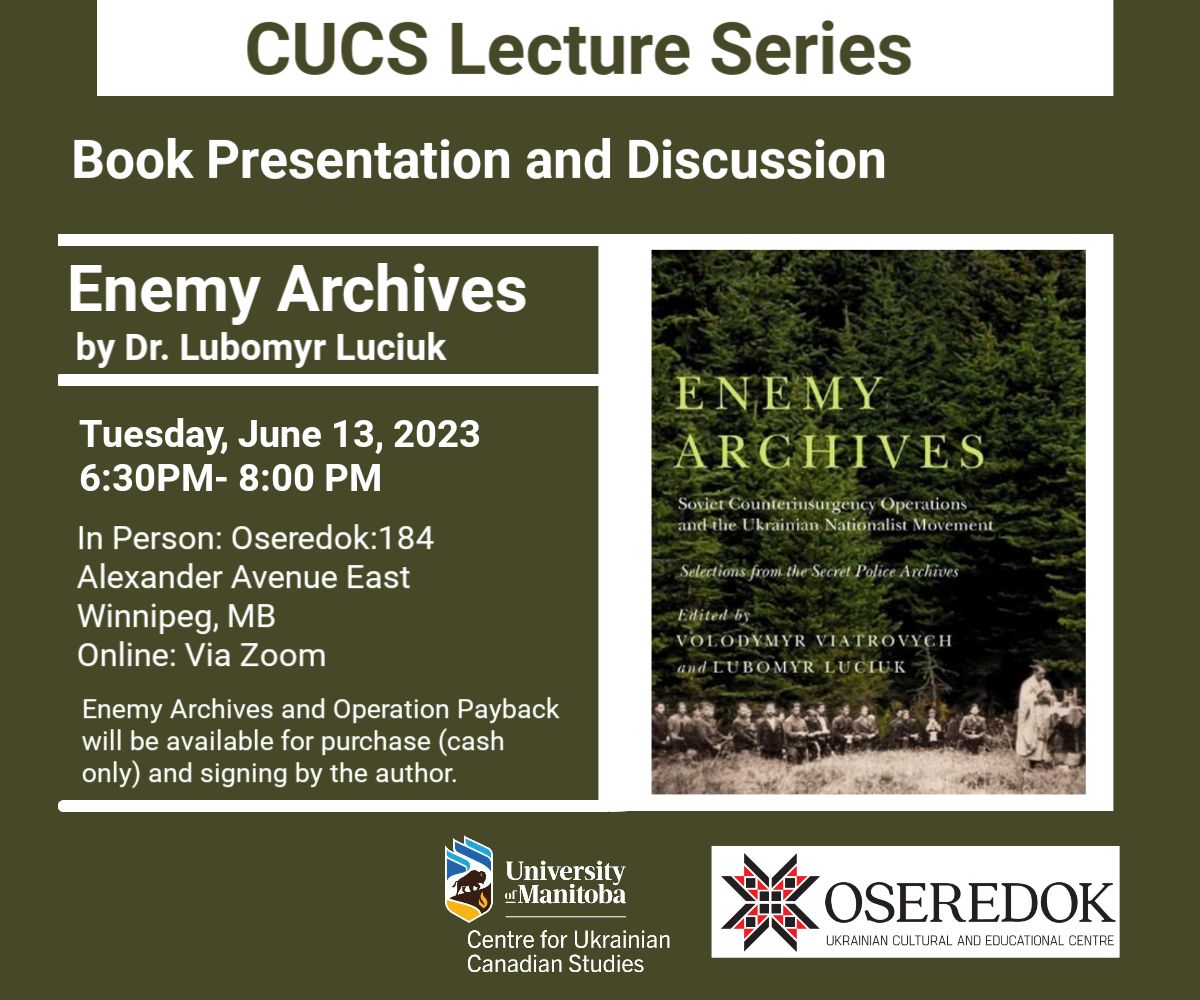 Discover the Untold Story: "Enemy Archives" Book Launch Event with Dr. Lubomyr Luciuk
---
Introduction:
Are you searching for captivating summer reads that delve into hidden histories and shed light on complex conflicts? Look no further than the upcoming book launch event, where we proudly present Dr. Lubomyr Luciuk and his latest publication, "Enemy Archives: Soviet Counterinsurgency Operations and the Ukrainian Nationalist Movement – Selections from the Secret Police Archives." Join us on Tuesday, June 13, 2023, from 6:30 PM to 8:00 PM, for an insightful evening of exploration and knowledge.
---
About the Book:
In "Enemy Archives," Dr. Lubomyr Luciuk uncovers a trove of Soviet-era sources that offer a unique and intimate portrayal of the Ukrainian nationalist movement. These archives provide a more accurate understanding of who the Ukrainian nationalists of the 20th century truly were. By delving into their beliefs, adversaries, struggles, and motivations, this remarkable book not only illuminates the past but also challenges the distorted narratives propagated by Putin in his attempt to rationalize Russia's ongoing conflict in Ukraine.
---
About the Author:
Dr. Lubomyr Luciuk is a professor of political geography at the Royal Military College of Canada and a fellow of the Chair of Ukrainian Studies at the University of Toronto. His invaluable contributions to academia have earned him the prestigious President of Ukraine's Cross of Ivan Mazepa.
---
Event Details:
Our exclusive book launch event will take place at Oseredok, where you can engage with Dr. Lubomyr Luciuk firsthand. Attendees will have the opportunity to hear the author present key aspects of his book, as well as participate in a thought-provoking Q&A session. For those unable to attend in person, we will also be offering an online streaming option, ensuring that anyone interested can participate from the comfort of their own homes.
---
In addition, "Enemy Archives" and Dr. Luciuk's previous work, "Operation Payback," will be available for purchase on-site, with the author graciously offering to sign copies for eager readers. Please note that purchases can be made in cash only.
---
Tuesday, June 13, 2023 
6:30PM- 8:00 PM  
In Person: Oseredok: 184 Alexander Avenue East, Winnipeg, MB
Online: Meeting Registration – Zoom
Enemy Archives and Operation Payback books will be available for purchase (cash only) and signing by the author.