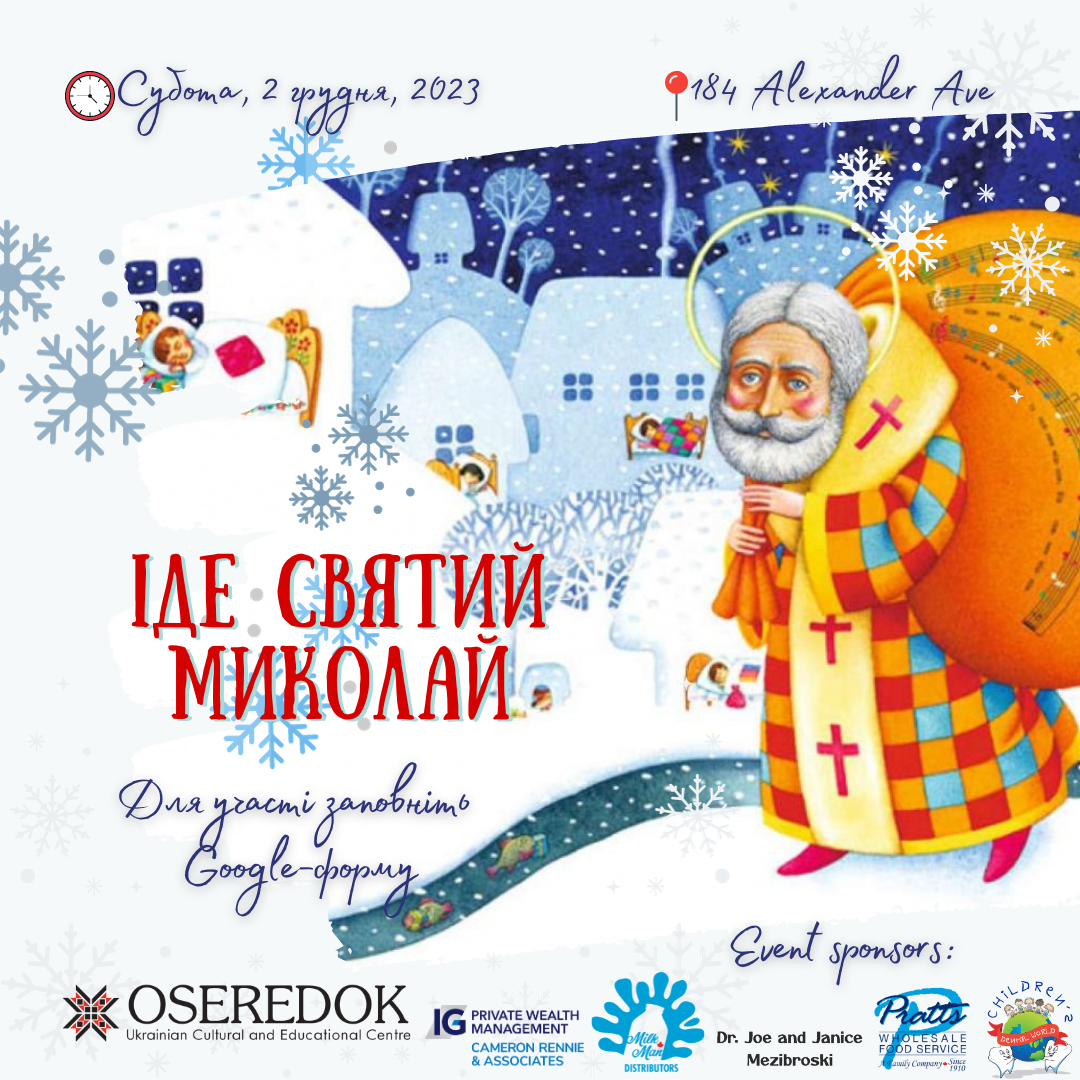 Thanks to all the parents; we have already reached our maximum capacity for the event.
Дякуємо усім батькам; кількість реєстрацій на нашу подію досягла максимуму.
---
St. Nicholas, one of the most popular saints in the Christian tradition, holds a special place in the hearts of Ukrainians. Renowned for his unwavering devotion to helping the less fortunate, his story is steeped in acts of kindness and generosity. In Ukraine, celebrating St. Nicholas' Day is not just a religious occasion; it's a time when the spirit of gift-giving and goodwill shines bright. This cherished tradition has endured for generations, and this year, Oseredok is excited to share the beauty of this age-old practice with everyone again.
We warmly invite our young guests, aged up to 14 years old, and their parents to join us in celebrating Saint Nicholas Day at Oseredok. We have heartwarming festivities planned, filled with exciting workshops, delightful entertainment, and a chance for young ones to receive gifts from Saint Nicholas himself.
Our event is scheduled for Saturday, December 2nd. For your convenience, we're offering three different time slots, allowing you to choose the one that suits your schedule best. To participate in this celebration, fill out the form below. If you're registering more than one child, please complete separate forms.
We kindly request that you arrive on time, as our venue has limited space, and we want to ensure that everyone has the chance to participate and create lasting memories.
Oseredok is looking forward to celebrating Saint Nicholas Day together!
---
This event became a reality thanks to our generous sponsors:
Milk Man Distributors
Pratts Wholesale Food Service
Dr. Joe and Janice Mezibroski
Children's Dental World 
Cameron Rennie & Associates, IG Private Wealth Management
---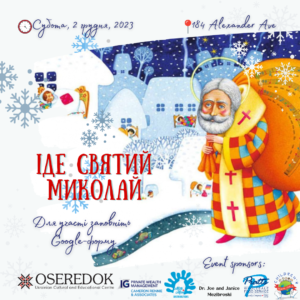 Святий Миколай, один із найулюбленіших святих християнської традиції, займає особливе місце в серцях українців. Відомий своєю непохитною відданістю та допомозі знедоленим, історія його життя наповнена вчинками доброти та щедрості. В Україні святкування Дня Святого Миколая – це не просто релігійне свято; це час, коли дух дарування подарунків сяє яскраво як ніколи. Ця заповітна традиція збереглася через покоління, і цього року Осередок знову радий поділитися цією чудовою старовинною практикою з усіма.
Щиро запрошуємо маленьких гостей віком до 14 років та їхніх батьків на святкування Дня Святого Миколая в Осередку. Ми запланували цікаве свято, наповнене захоплюючими майстер-класами, чудовими розвагами та подарунками для малечі від самого Святого Миколая
Наш захід відбудеться у суботу, 2 грудня. Для вашої зручності ми пропонуємо три різні часові проміжки, щоб ви могли вибрати той, який найкраще підходить вам. Якщо ви хочете взяти участь у цій події, будь ласка, заповніть відповідну форму нижче. Якщо ви реєструєте більше однієї дитини, будь ласка, заповніть окремі форми.
Ми просимо вас прибути вчасно, оскільки наша локація вміщує обмежену кількість учасників, і ми хочемо, щоб кожен мав можливість взяти участь у події і створити незабутні спогади.
Осередок з нетерпінням чекає вас на святкування Дня Святого Миколая разом!
---
Цей захід став можливим завдяки підтримці наших щедрих спонсорів:
Milk Man Distributors
Pratts Wholesale Food Service
Dr. Joe and Janice Mezibroski
Children's Dental World 
Cameron Rennie & Associates, IG Private Wealth Management