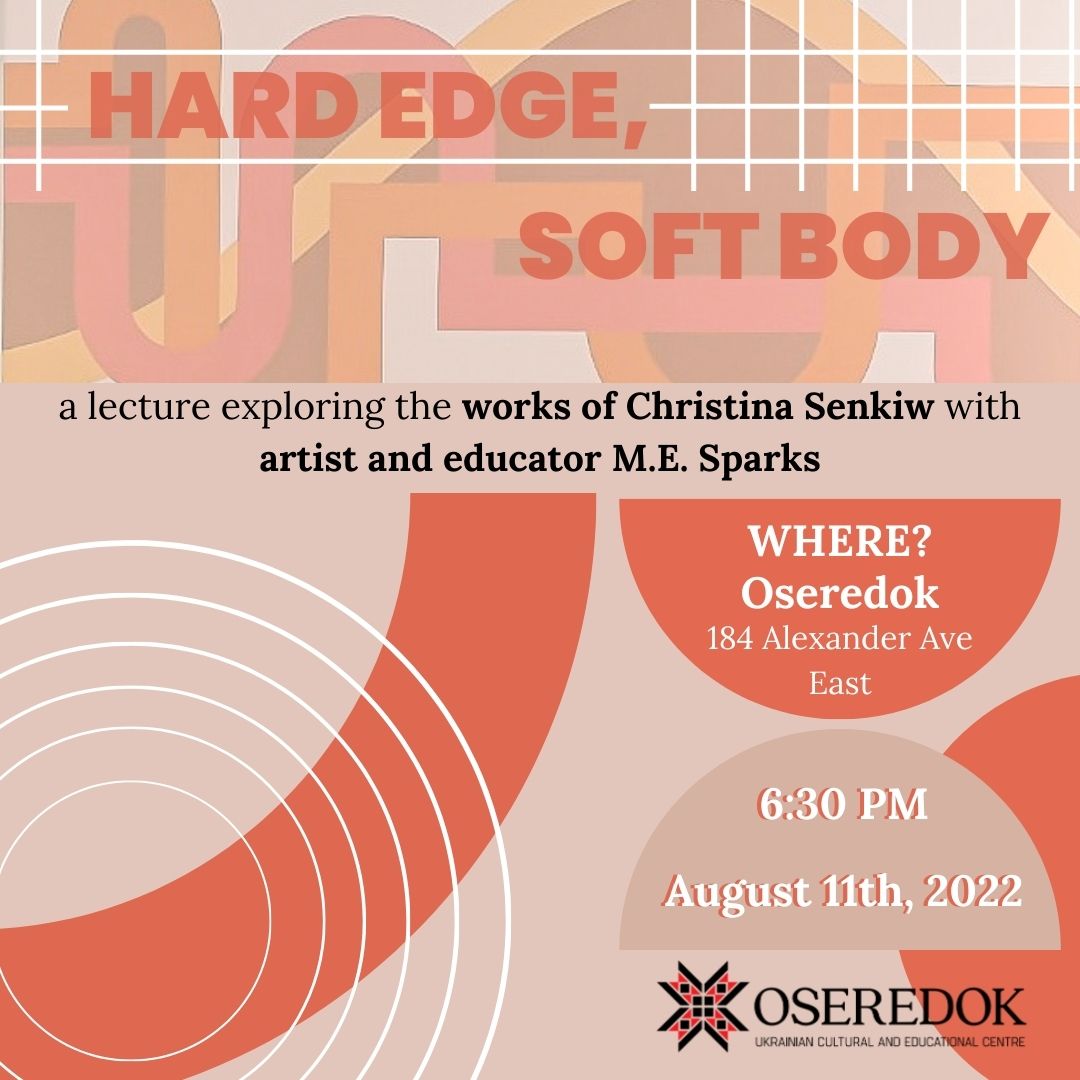 Oseredok's current exhibition Line, Form, and Figure: An Exploration of the Works of Christina Senkiw is an opportunity to dive into colour and shape. Curious to learn more about the artistic tradition that Senkiw's works derive from? Join us for a lecture titled 'Hard Edge, Soft Body' with renowned painter M.E. Sparks as she explores hard-edged abstraction and its influence on painters in the 20th century.
This in-person event is scheduled for August 11th, 2022, at 6:30PM, and is free to attend for all. Hope to see you there!
About the Speaker
M.E. Sparks is an artist and educator currently living in Winnipeg, MB, Treaty 1 Territory. She holds an MFA from Emily Carr University and BFA from NSCAD University. Recent exhibitions include "We can only hint at this with words" at the Gordon Smith Gallery for Canadian Art (North Vancouver), "A Fine Line" at Trapp Projects (Vancouver), "To-Do-To-Do" with Number 3 Gallery's SPAM series (Vancouver), and "Hiatus" at Ou Gallery (Duncan). Her work has been shown at Access Gallery (Vancouver), Franc Gallery (Vancouver), Dynamo Arts Association (Vancouver), Fifty Fifty Collective (Victoria), Support (London) and SiteFactory (Vancouver). Sparks was a finalist in the 2016 and 2017 RBC Painting Competitions and a recipient of numerous awards and project grants, including the Nancy Petry Award and research funding from Canada Council for the Arts, BC Arts Council, Arts Nova Scotia and Nova Scotia Talent Trust.  Upcoming projects include a solo exhibition at the Alternator Centre for Contemporary Art (Kelowna).
To learn more about M.E. Sparks, visit her website: https://www.mesparks.com/