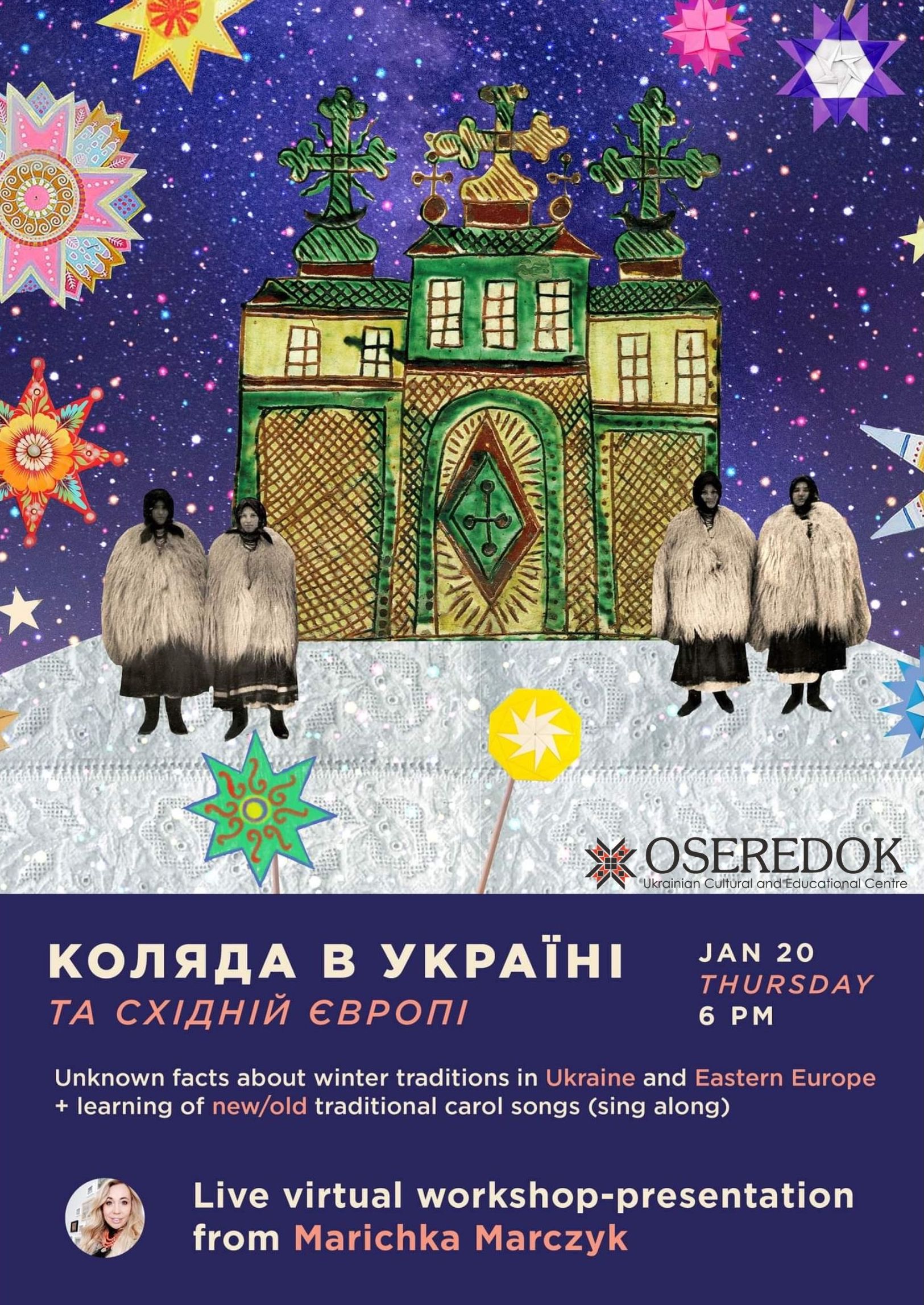 Коляда в Україні/Caroling in Ukraine
Oseredok Ukrainian Cultural and Educational Centre warmly invites you to join us for "Коляда в Україні/Caroling in Ukraine," a workshop exploring the historical roots of Ukraine's festive caroling tradition, led by Marichka Marczyk. This workshop will include both an overview of this rich and variable cultural celebration, as well as the opportunity for participants to join in with a short sing-along.
Please join us at this free-to-attend virtual workshop on Thursday, January 20th, at 6PM CST.
About Marichka Marczyk:
Marichka Marczyk is a well known folklorist, singer, and musician with the Ukrainian-Canadian band Balaklava Blues and Lemon Bucket Orchestra.

In 2002 Marichka graduated from the National Music Academy of Ukraine with a Major in Ethnomusicology/Folklore Music. She is known for the famous folk opera, Counting Sheep, that she co-directed together with her husband, Mark Marczyk. In May of 2021 Marichka presented and opened for the public her educational project – digital archive "Folk Songs of Ukraine" for students in Ukraine and any diasporanian schools around the world. The project was completed by audio materials collected by folklorists during the last 50 year to now and supported by Ukrainian-Canadian documentary research centre.

Marichka Marczyk is teaching Ukrainian traditional Old songs to get a taste or learn deeply a special vocal technique of Ukrainian polyphony called "open voice". "Open Voice" is a unique singing style developed over centuries in the plains of central and eastern Ukraine. Marichka's teaching and singing repertoire is over 500 years old and was collected over the past 20 years on various ethnographic expeditions to Ukrainian villages by renowned folk ensemble Bozhychi, of which workshop leader Marichka Marczyk is a founding member.